TRAVEL TIPS
Visa
Participants from Switzerland, and Panama (Spain, please ask a consul in your country) do not require a visa to enter Brazil. Participants from other countries require a visa. For those of you who have to catch a connection in US, please check whetehr you are required an ESTA authorization. Please go to this link in order to apply for it:
https://esta.cbp.dhs.gov/esta/

Health
It highly recommended to contract a "travel health insurance" prior to your departure to Brazil, as hospital and medical fees can be very expensive. Yellow fever shots are necessary. Please take it at least 10 days prior to departure.

Weather
Bonito's weather is humid and tropical, with annual temperatures averaging 22º C. Between June and August, the weather is dry and cold, and temperatures may drop below 16º C (ca. 60F); be prepared for that. We expect dry and sunny days, with cooler nights. Don't forget that the seasons in the southern hemisphere are exactly the opposite to those in the northern hemisphere!

Clothing
We recommend light, cotton-made clothing. Please make sure to bring a sweater or light coat as the temperature falls after dust. Also do not forget to bring swimming clothes, sun-block protection, and insect repellent.

Time zone
Bonito is located at time zone -4:00 GMT.

Electric power
The electrical power is 110 V, 60 Hz. Electrical adapter plugs are of the Type C European 2 pin.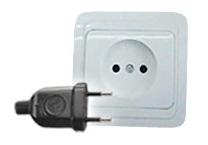 Currency
The local currency is the Brazilian "Real". Major credit cards (Visa, MasterCard, Amex, Diners and American Express) are accepted at most hotels, restaurants and stores; with Visa being the most widely accepted. American Dollars or Euros can be exchanged at the "Banco do Brasil" in Bonito (Av. Dr. Alberto de Oliveira, 85; tel. (81) 3737-1274). However, the best place for money exchange money is the Campo Grande Airport, upon your arrival. In addition, ATM machines are also available at the Campo Grande Airport and in Bonito.

Tips and taxes
A 10% tip is usually already included in the bill at restaurants and bars. You are not obliged to pay this tip, but most people pay it without complaining, unless they are unhappy with the service provided.

Emergencies
If you have any emergencies, please contact Lúcia Lohmann at the following cell phone number: (11) 9911-7440.